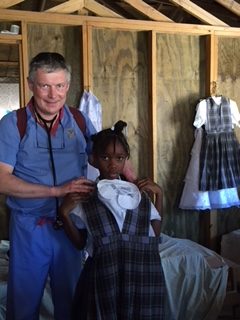 Brother Joe writes:
The trip is under the auspices of the Notre Dame Haiti Program that was begun in the early 90's by Fr Thomas Streit, CSC, who was a biological researcher. He helped work out a way to greatly reduce lymphatic filariasis. Their main web site is 

https://www.nd.edu/features/haiti-lymphatic-filariasis/

His efforts were largely successful and the program was taken over by the government health ministry with the help of WHO, CDC and an ecumenical church group. However, the people in this area of Haiti were at center of the 2010 earthquake and the land where the ND building is served as the location of one of larger UN field hospitals just st after the quake.  And they still have lots of problems even if filariasis is not spreading as much. So groups of medical and surgical doctors go to Leogane about every 6 months. Now the program works with the Episcopal Hospital Saint Croux in Leogane to operate some clinics in parishes and small town community centers. And we also go to 2-3 orphanages that do not have regular outside sponsors. Last year I was able to take many boy and girl uniforms from St Michael School.
We also have had a clinic at the local parish St Rose of Lima. They already had nice uniforms and sisters that teach there. So I am taking them some holy cards of St Rose with the Our Father, Hail Mary and Glory Be printed in Creole on them to give them.

I was able to get a bunch of children's cloths from St Vincent DePaul at St Michael and from downtown to fill my 2 suitcases to 50 lbs each, which is limit and n flights there. I also buy medicine from a program called MAP so we have something with which to treat people. There are no pharmacies. But it's just acute care. There was nothing to do for a 13 yr old boy at St Rose last year who had a tumor growing in his upper jaw. There is no insulin for diabetics. Persons with asthma use the inhaler we may have for them until it gone, then they have none. Adults with chest pain must reduce their activities since there will never be a stent placed or a by-pass done for them. We give out a lot of vitamins to try to prevent illness some, and tums or softeners for stomachaches. We buy food for orphanages that don't have refrigeration.